Description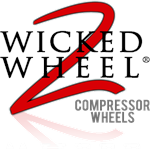 This wheel is a 1994 – 2003 Ford PSD 7.3L PSD Performance Billet Compressor Wheel for STOCK GTP38 and TP38 Turbo Applications – Wicked Wheel 2 (WW2) Compressor Wheel Series Part #WW38

FOR STOCK TURBO APPLICATIONS FROM 1994-2003
(FREE PEDESTAL O-RINGS INCLUDED)
Special Note: This turbo has a standard right hand thread – meaning you turn the compressor wheel to the left to loosen. No need to torque the Wicked Wheel on. Simply snug the Wicked Wheel until it fully seats. It will self-tighten to full torque. The Wicked Wheel is balanced at the factory. Turbo balancing after installation is not necessary.

While capable of high boost numbers with supporting mods (like those shown in the graph below) these wheels are safe for stock turbo applications! We recommend that you continue using a wastegate in 1999-2003 models to avoid excessive boost. For maximum stock turbo life, do not exceed 32 lbs. of boost for extended periods of time. 🙂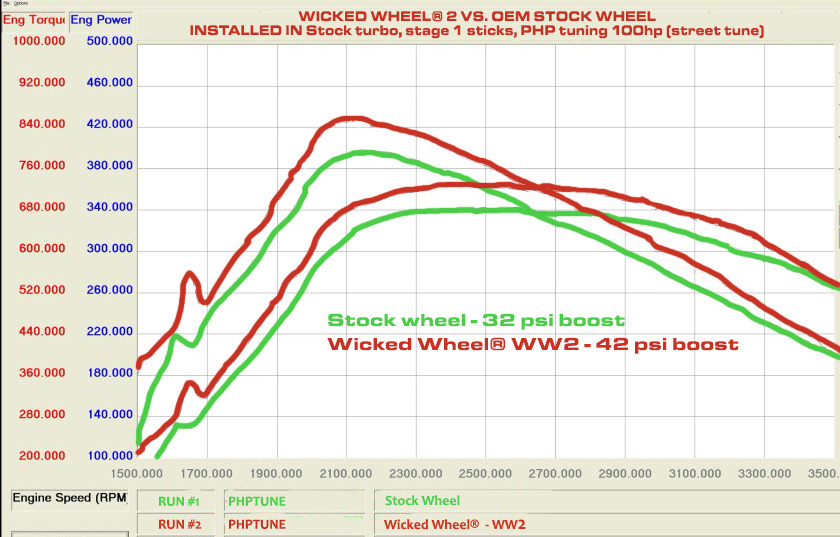 This wheel will ELIMINATE surge on your stock turbo!!
Wicked Wheel® is a registered trademark of Bob Riley and DIESELSITE, INC. All rights reserved. Any intent to mislead or confuse customers by using our name or mark is a violation of trademark infringement and will be enforced.
DO NOT USE AN IMPACT WRENCH TO CHANGE TURBO WHEELS! Impact wrenches cause stress fractures in the shaft that will cause failure either very soon or thousands of miles down the road. It's like a crack in your windshield that grows over time. Take your time and remove the turbo, hold onto the turbine shaft and remove the compressor wheel with an open end wrench.