Description
DEPENDABLE POWER AT YOUR COMMAND
Hydra Chip: The only 7.3L PCM chip that gives you full, absolute control
It's not just a chip you're purchasing… it's a key to unlock world-class performance tuning. Every chip comes with FREE access to our entire library of calibrations for stock trucks. You choose what power levels you load onto your chip. Our easy to use HydraFlash software gives you full control.  Please note HydraFlash is Windows compatible only.
Need custom tunes for your modifications? No problem. Choose from many Hydra tuners across the country. Everything is done through email, so you never have to send your chip off to be programmed.
The Hydra chip always has [00] bypass mode and [NS] no start built in. There are 15 more positions you can program from our database, custom tuner of your choice, or your own files you develop in Minotaur software. The choice is always yours.
Features:
Easy to read two-digit removable display switch for SWITCH-ON-THE-FLY control
Seventeen positions including built-in Module Bypass [00] and No Start [nS]
Program and reprogram using our free HydraFlash software
Supports any custom tuners' calibrations
FREE access to Power Hungry's extensive library of calibrations
FREE Modified Valve Body versions for many popular calibrations
Modified Injector tuning for popular calibrations and injectors (additional, on-time charge)
Fully compatible with PATS-equipped vehicles
Program your chip in seconds using any or all the positions
Create printable calibration list for reference
Optional USB extension cable for programming in-truck – never pull your chip for programming again!
Read the factory PCM calibration directly through chip with optional USB extension cable
Made in America: Wherever possible, every part of the Hydra Chip is sourced in the United States. The boards and ribbon cables are made in Florida, the switch case comes from New York, the switch decal is made in Washington, the boxes come from California, and the whole thing is assembled in Georgia. There are individual components that are only available oversees, but we put tremendous effort and pride in finding all the US sources we possibly can. We believe in promoting American jobs for the strength of our country.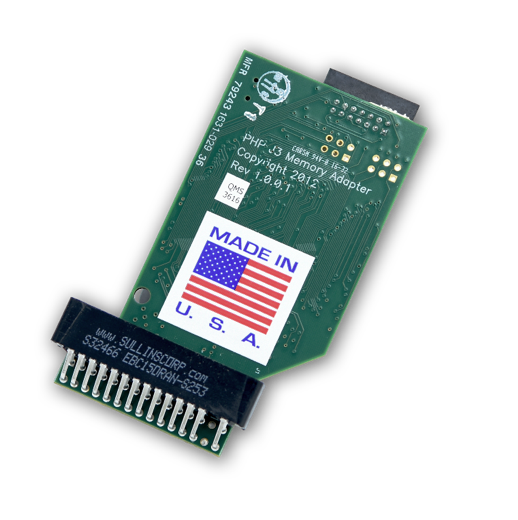 ---
Examples of calibrations available through HydraFlash software:
0 HP Stock
Factory stock calibration with no modifications
0 HP Modified Stock
Useful for diagnostic testing purposes
25hp Extremely Heavy Tow
12,500+ pounds
40hp Heavy Tow
10,000 -12,500 pounds
65hp Moderate Tow
7,500 – 10,000 pounds
80hp Light Tow
Up to 7,500 pounds
65hp Fuel Sippper
When the focus is strictly on fuel economy, early shifts to help keep RPMs low
40hp Daily Driver
Good for all-around daily driving and economy
65hp Daily Driver
80hp Daily Driver
65hp Performance
A little more aggressive than a Daily Driver while still maintaining manageable smoke output
80hp Performance
100hp Performance *
100hp Race *
Play time! Offers a more aggressive fuel curve for improved low RPM response and top end power
120hp Race *
140hp Extreme * ‡
This is as big as it gets! (On stock injectors, anyway)
High Idle – 1,000rpm
Ideal for PTO operation or for faster warm-ups.
We do not recommend exceeding 1,200rpm for safety reasons.
High Idle – 1,100rpm
High Idle – 1,200rpm
Anti-Theft
Causes a "Dead Pedal" so vehicle will idle, but is not driveable
Whisper Mode ™
Hit the drive-thru and place your order or do your banking without having to shut off your truck
Valet Mode 25 mph
Lowers the speed limiter
Valet Mode 35 mph
Valet Mode 45 mph
Teen Driver ™ 65mph
Locks the speed limiter at 65mph
Teen Driver ™ 75mph
Locks the speed limiter at 75 mph
* Due to injector size limitations, stock 1994½ to 1997 trucks will only have calibrations available up to 80HP. Early 1999 can go up to 100HP.
‡ The 140X tune is not recommended on Late 2001 to 2003 vehicles with stock injectors because they have Powdered Metal Connecting Rods.
Note: This product is designed for the 1994½ to 2003 7.3L Power Stroke Diesel trucks. It will not work on earlier 7.3L IDI powered trucks, including the early 1994 "Turbo Diesel" IDI. If you have any questions about which engine you have, please contact Power Hungry Performance or your preferred dealer for more information.
---
IMPORTANT INFORMATION ABOUT CALIBRATIONS
1994½ to 1997 and early 1999 Power Stroke and International trucks are fitted with smaller volume injectors than the late 1999 and up Super Duty trucks, and as such are limited to increases of about 80 HP for the 1994½ to 1997 and 100 HP for the early 1999. Some trucks, depending on tolerances, may be able to utilize up to 80 HP and 120 HP respectively, but we cannot guarantee that the power gains will be achieved.
1994½ to 1997 TRUCKS WILL HAVE FEWER CALIBRATION SELECTIONS DUE TO THE POWER LIMITATIONS OF THE FACTORY STOCK INJECTORS. ADDITIONALLY, TRUCKS WITH MANUAL TRANSMISSIONS WILL HAVE FEWER CALIBRATION SELECTIONS DUE TO THE PROGRAMMING CHANGES THAT ARE MADE TO SHIFTING BETWEEN TOW AND POWER CALIBRATIONS.
MODIFICATIONS THAT REQUIRE CUSTOM CALIBRATIONS:
Modified Injectors (Stage 1, Stage 3, etc.)
Heavily Modified Transmissions (DieselSite Legendary Trans, John Wood, BTS, etc.)
Alternate fuels (veggie oil, waste oil, trans fluid)
Engine mods such as camshafts, compression changes, cylinder head modifications
Modified large single or twin turbos
Aggressive high-pressure oil systems (Gen-2, Pulse, twin pump, etc.) EXCEPT for Adrenaline, SRP, and Terminator T-500
Power Adders (Nitrous, Water/Meth, Propane)
Look here for the software and trouble shooting when installing!  http://www.hydrahelp.com